​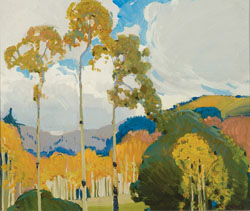 Additional Details
Perhaps the most artistically restless and adventurous of the Taos Founders, Victor Higgins was acutely aware of the many currents of Modernism. You can see strands of Cezanne's Cubism, the bold colorations of the Fauves, and swirling expressionistic passages that you might find in Munch. Fall Landscape contains all these, but also reaches back to design elements you might find in Rookwood pottery or in the landscapes of Van Gogh. The avenues of aspens, regular in their musical irregularity, seem to dance under the sunlight where it peeks out from between the clouds and grow quiet in the shadows when they pass.
Condition Report
In excellent condition. No apparent evidence of inpaint under UV light. No problems to note. Download Condition Report
Disclaimer
*The Condition Reports are for guidance only and should not be relied upon as statements of fact, and do not constitute a representation, warranty, or assumption of liability by Scottsdale Art Auction. Scottsdale Art Auction strongly encourages in-person inspection of items by the bidder. All lots offered are sold "AS IS". Please refer to item two in our terms and conditions for further information.
view all