(Shown Above) G. Harvey (1933-2017) – Street Cars Along the Avenue – 36″ x 60″ Oil – Estimate: $150,000 – 250,000
Eight superb paintings by the inimitable G. Harvey will be featured in the 2020 Scottsdale Art Auction, which holds five of the top ten auction records for this modern master's work.
A son of the Texas Hill Country, Gerald Harvey Jones, known to the art world as G. Harvey, listened to stories his father and grandfather told, stories of ranch life, the frontier, and cattle drives. These stories, springing from the landscape, helped form the images that shaped his career as an artist.
Harvey's subject matter ranged from nostalgic cityscapes to oil derricks, to historical and working cowboy scenes. But the artist's values, faith, and interest in American history are the true wellspring of his work.
Harvey's influences embraced Impressionism, American artists like Moran and Bierstadt, and the works of 20th century French boulevard painters such as Cortes. Dramatic light playing over areas of greater and lesser detail were Harvey's stock in trade, and while he rooted his work in realism, his conceptions were the children of his prodigious imagination.
Echos of the Canyon
30″ x 24″ Oil
Estimate: $75,000-$125,000
A Stroll on the Plaza
48″ x 36″ Oil
Estimate: $125,000-$175,000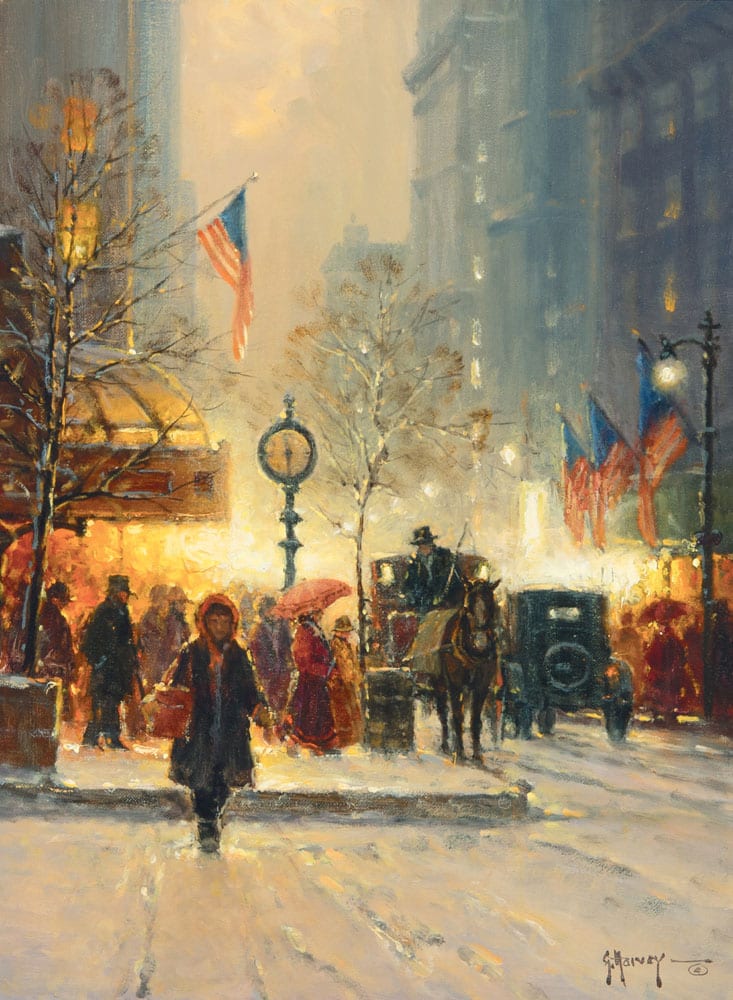 Holiday Lights NYC
16″ x 12″ Acrylic
Estimate: $20,000-$30,000
Old Boston
30″ x 36″ Oil
Estimate: $75,000-$100,000
Remembering the Good Times
26″ x 38″ Oil
Estimate: $75,000-$125,000